:: About
Motto
"Freely, Flexibly and Professionally"
- Saiko, Salon Owner -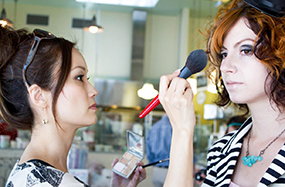 Saiko, the California lisenced cosmetologist and the owner of AtElieR Saiko, is a professionally trained makeup artist with experience of more than 24 years in Bridal, Ruways, Fashion Catalogs, Movies, Videos / DVDs and ordinary salon works. While her clientele includes children for haircuts, brides for busy wedding, traveling actresses from overseas or Hollywood celebrities for red carpet treatment, her focus is always on providing customer satisfaction.
She is dedicated to offer the highest quality services exceed your expectations until her clients leave with smile on their faces. With her little help, you will discover your own style and create a look that will turn heads on your special day, or every day!
There is a famous Japanese expression which symbolizes the superior quality of Japenese service. "Customers are always number one. Whatever they say, they are right." This means that when we offer any kind of service, communication between us and our customer is the key to reach their goal. It's all about how much we care about them and strive to provide 100% Customer satisfaction ;)
Good to know about Saiko...
California Lisenced Cosmetologist
More than 24 years experience of makeup and hairstyling in Fashion, Runway shows, Bridal, Videos & DVDs, TV and movies.
Regular Japanese TV (BS Japan) cast since 2012
Skilled in multi-cultural makeup and hairstyling
Wardrobe skills
Own Makeup studio at great location in west LA, CA
Language: English & Japanese
Will travel