:: Services
" To customize your everyday beauty "
Call us as far in advance as possible to book your appointment due to limitation on select appointments.
Makeup Lessons---We're so proud of ourselves to offer our very original makeup classes! There is no other schools or salons that you can learn about makeup like our salon. Our classes are all custom made that you organize yourself how many minutes or hours you take, or what kind of contents you learn. You want to learn about basic skincare process? Yes, you can. You want to know what kind of shade is right for foundation? How to apply blush and eyeshadow? How to wash makeup brushes? How to apply fake eyelashes? We are here for you to guide. You can choose any topic!


Headshots---Taking headshots is the first step to work as a professional model or an actress/actor. Don't hesitate and take a chance to create the perfectly qualified portfolio! Headshot package includes professional makeup and hairstyling service, shoots by an experienced photographer, and all equipped studio.


Makeup/Event---Achieve the look you want by using our professional skills. Nudy natural,Dramatic, Classic, or even Rock! Be the first one to find the best artist to make you an outstanding beauty queen!


Prom---Not ever had makeup on before? or You are not sure what type of makeup and hair will match your dress? We are here for you to discuss all the details. Don't miss the chance to be the center of attention on your special day. Call us today for booking as most prom parties are held on the same day.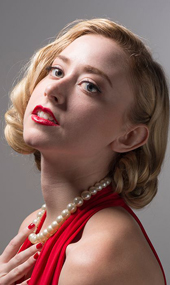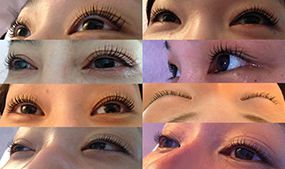 - Eyebrow Styling / Eyebrow Tatoo(Microblading/Microshading) / Eyelash Lift(Perm) / Waxing -
Eyebrow Styling---A well-groomed brow line creates the subtle difference that will affect the overall look of your entire face. Before start the process, we discuss with you all about shapes and colors of the eyebrow you desire, and decide what types of waxing or tweezing to apply on you. We also give you the tips for maintenance between the regular treatments at the time of your first visit.
Eyebrow Tatoo (Microblading/Shading) ---Microblading is a semi-permanent tattoo technique using a tool that looks like a blade, but is actually full of tiny little needles that make small cuts in your skin. It creates hair strokes that look legit and a lot like actual super- fine strands of hair. Shading gives a soft shaded brow pencil look. Once healed, it is more natural looking than solid color. It gives great definition and depth to the brows. Whether the client is looking for a light soft shading or show-stopping bold brows, it can be customized according to the client's desire.
Eyelash Lift(Perm)---Wasting too much time on curling eyelashes with eyelash curler in busy morning? You can skip that whole process by getting an eyelash perm! We see how eyelash perming could sound enticing to achieve "wide-awake" look. You'd have perfectly flipped-up lashes 24-hours a day for a month or two after holding your eyes shut only for 50-60 mins! Please do not touch or get them wet for 24 hours after the session. When you have eyelash extensions on, you need to get them removed for additional fee. Curls last about 6 weeks, and we recommend to repeat the session with 6 week cycle or more to avoid damage. The procedure is securely performed only by the person who completed a training course.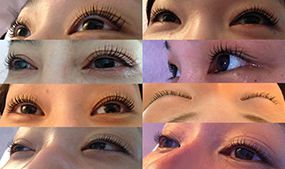 We understand how important your wedding is to you and therefore we put in the extra effort to meet all of your bridal beauty needs.
***Recommended steps for your special day***
2 mos~3 mos before : Reserve the date (deposit required)
2weeks~1 mos before : Consultation and Trial run of makeup and hair styling
3days~5days before : Get ready with our Bridal Facial and Face & Body Shaving
On the day of the wedding : Just relax and open the hotel room door for us!
It's always a good idea to bring in pictures of dresses, accessories, bouquets and bridesmaid's dress so that we can give you makeup and hair styling perfectly matching with your wedding theme. This will also ensure you achieve your desired look on your wedding day.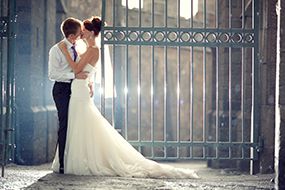 Custom quotes for your wedding party makeup & hairstyling can be delivered to you quickly via e-mail. Please make sure to include the following information in your e-mail : Wedding date, time, makeup location and number of people that needs makeup/hair services.
For booking a date, $200 deposit is required.